Newsletter on Support Prices and Periods of Renewable Energy Projects
The Law on the Electricity Market Law and Certain Other Laws numbered 7257, which was previously published in the Official Gazette dated December 2, 2020 and numbered 31322 set forth significant amendments in the Renewable Energy Resources Law numbered 5346 and regulated that how Turkish Renewable Energy Resources Support Mechanism (Tr. "YEKDEM") would be applicable for renewable energy plants, for the period as of December 31, 2020. In this respect, it had been regulated that the renewable energy plants that will start its operations after the date of June 30, 2021 would continue to benefit from YEKDEM and the support prices and support period would be determined by the President afterwards.
The aforementioned support prices and periods were introduced with the Presidential Decree numbered 3452 ("Decree"), which was published in the Official Gazette dated January 30, 2021 and numbered 31380. In this respect, as of January 30, 2021, the support prices and periods will be applicable for the renewable energy resources electricity generation plants/facilities having Renewable Energy Resources Certificate (Tr. "YEK Certificate"), which will benefit from YEKDEM and start their operations between July 1, 2021 and December 31, 2025, .
YEKDEM and local support prices as well as the application periods which will be applicable for the aforementioned generation plants/facilities are set forth below. Further, the procedures and principles regarding the application of local support prices will be regulated by a secondary legislation of Ministry of Energy and Natural Resources.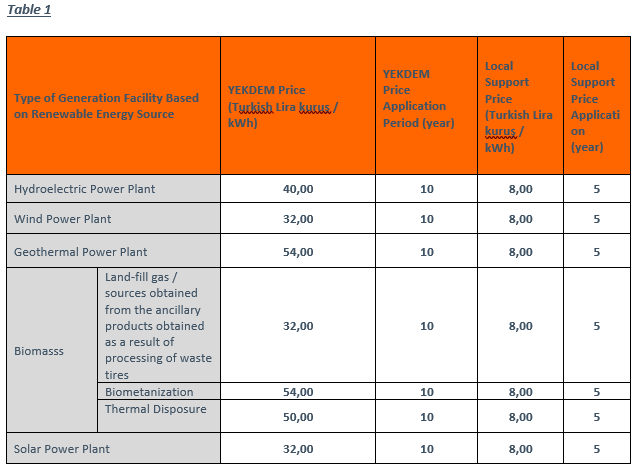 Pursuant to the Decree, YEKDEM and local support prices will be subject to a variation in every 3 (three) months (i.e. in January, April, July, October) starting from April 1, 2021. The escalation will be made as per the calculation formulations specified under the Decree and based on the producer-price index, the consumer-price index, and the buying rates for Euro and US Dollar.
The Decree also fixed a maximum limit in US Dollars for the increased amount in order not to exceed such US Dollars limit. In the event that the increased amount exceeds the maximum limit, the maximum amount which is stated below will be applied by way of conversion of such amount into Turkish Lira .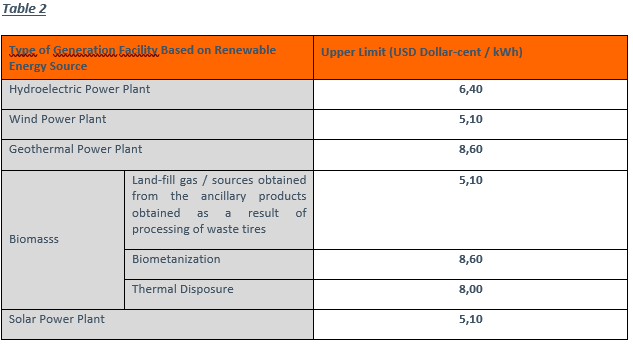 ---
[1] "The maximum limit as converted into Turkish liras (based on average of daily buying rates for US Dollars announced by the Turkish Central Bank for the second, third and fourth months prior to the first month of the relevant quarter will be applied as YEKDEM price."